At Watneys he worked with an old school friend, Paul Saunders, and one day the pair read an article that said writer Johnny Speight earned around £1000 per script for Till Death Us Do Part. Probably encouraged by the vast amount Speight earned for his talents they both decided to give scriptwriting a go and went out and bought a second-hand typewriter for £2.00. The pair then spent the next two months working on an idea they had for a sitcom. Called Gentlemen, it was about an old soldier who ran an old-fashioned gents toilet, with brass taps and china troughs, which was his pride and joy.
They sent the finished script off to the BBC and three months later received a rejection letter stating that it was not the kind of material the BBC were looking for.
The rejection put Paul Saunders off writing but John Sullivan had enjoyed the process and decided to carry on alone. He wrote various scripts, which he sent off to the BBC, but each one was rejected.
In 1973 he married his girlfriend Sharon who he had met in a pub the previous year. By now he was working with his Dad as a plumber but still spent his spare time writing and setting himself writing exercises, always trying to improve his technique.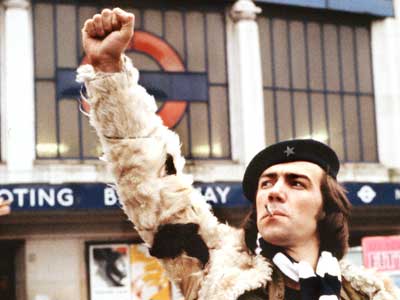 He wrote a letter to the BBC telling them what he wanted to do and was called in for an interview. He was employed at Television Centre in the props department, before moving on to become a scene shifter, a job which brought him closer to the actual filming.
Biding his time waiting to talk to a producer about his idea for Citizen Smith, a colleague one day pointed out BBC producer Dennis Main-Wilson. A few days later Sullivan spotted him in a small BBC bar and decided to introduce himself. The pair chatted and Main-Wilson gave him plenty of encouragement and advised him to go off and write sketches for shows like The Two Ronnies and The Dave Allen Show.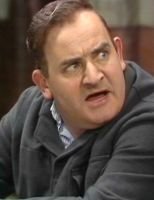 John Sullivan was delighted to finally get a break and five weeks later met Dennis Main-Wilson, still eager to write Citizen Smith. Main-Wilson, impressed that he was now writing sketches for The Two Ronnies, told Sullivan to go away and write a pilot script.
Two weeks later John Sullivan handed in a completed pilot script for Citizen Smith. Dennis Main-Wilson and his boss Jimmy Gilbert liked the script and decided to make it for a Comedy Playhouse series which tried out new ideas.
Eight weeks later Citizen Smith was shown on telly, was a success, and a full series was commissioned. John Sullivan had finally made it after more than ten years of trying and left his job as a scene shifter to concentrate on writing full-time.
John Sullivan Has Written;
Micawber
Heartburn Hotel
Roger Roger
Over Here
Sitting Pretty
Dear John
Just Good Friends
Only Fools and Horses
Citizen Smith