John Sullivan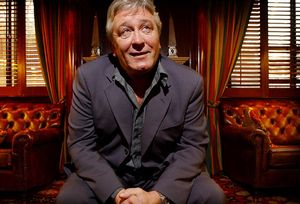 23 December 1946 - 23 April 2011
John Sullivan died in hospital from viral pneumonia, aged 64.
The Guardian, April 2011
According to various polls, Only Fools and Horses is the most popular UK sitcom of all time. Its author, John Sullivan, who has died aged 64, after a bout of viral pneumonia, once said "I'll never kill off Del Boy while the public still loves him," and even after the series officially ended in 1991, he kept writing further episodes and "specials" for 20 years.
The history of British broadcasting is rich with Dickensian television comedy writing rooted in lower-middle and working-class lives. Johnny Speight created the loudmouthed bigot Alf Garnett; Galton and Simpson came up with Steptoe and Son, the warring rag-and-bone merchants; and Sullivan gave us the Peckham wheeler-dealer Derek "Del Boy" Trotter. Del Boy, with ludicrous aspirations of amassing great wealth, and as played by David Jason, was Sullivan's favourite creation.
As the son of an Irish plumber, John Sullivan, and his charlady wife, Hilda, in south London, Sullivan knew people just like Del Boy (so did Jason, whose father was a fish merchant). Many of his characters stepped right out of the Peckham market of his youth into our living-rooms. Audiences knew exactly who they were, and why they were funny, and Christmas without the Trotters became as inconceivable as Christmas without turkey and crackers; Only Fools and Horses regularly attracted viewing figures of over 15 million, sometimes 20 million, and won the Bafta award for best comedy series in 1986, 1989 and 1997.
The Trotters were rooted in the aggressive, DIY, self-employed culture and vernacular of working-class south London, Sullivan's world, with Jason's incorrigible wide-boy ("lovely jubbly" was the hand-rubbing phrase at the prospect of sealing another dodgy deal) and his moon-faced brother, Rodney ("you plonker"), played by Nicholas Lyndhurst, acquiring institutional status in the national consciousness.
The show began in 1981 as a story of three men of three generations in Peckham, all without a woman in their life. Del's upbringing had installed moral virtue and a sense of family solidarity, even though he would sell any load of old rubbish to gullible punters; and he would protect dim-witted Rodney with his life. The third main character was Grandad, played by Lennard Pearce, a bit of a whinger, retreating into deep sulks, but loveable all the same.
When Pearce died in 1984, Sullivan replaced him with Buster Merryfield as the peppery Uncle Albert, who moved into the household after a life at sea. Del's "business" was conducted either from home, or in the back of his little Robin Reliant with its "Trotters Independent Trading Company" sign; or else in the local pub, the Nag's Head, where the cynical barman, Mike (Kenneth MacDonald), presided over a motley crew of regulars
Most prominent among them were the gangster spiv Boycie, resplendent in his camel coat with a velvet collar, and the slow-witted philosophical mutterer Trigger, characters inhabited by John Challis and Roger Lloyd-Pack to the highest degree of humour and authenticity. So brilliant and accurate was Sullivan's writing that these people really did acquire a life of their own; they only had to appear to fulfil every expectation we had of them, a rare quality in any drama. Love and marriage did enter the Trotter brothers' lives, with Cassandra (Gwyneth Strong) for Rodney, and Raquel (Tessa Peake-Jones) for Del Boy. But the core of the show was the childlike partnership and double act of Del and Rodney, a sort of south London Laurel and Hardy, fuelled equally by irritation and affection.
Sullivan saw the success of his story of Del Boy's recurrent failures as symptomatic of the zeitgeist: "He was out there in the vanguard of this new era in British history," he said in 2003. "No one seemed aware of this great tidal swell of change among the working classes, buying property and owning companies, until Del Boy showed Maggie Thatcher the way. I was also very lucky that all this new technology came in as I was writing him, so Del started off with one of those brick-like mobile phones."
Sullivan's first producer, Ray Butt, was succeeded in 1985 by Gareth Gwenlan, who says that the pre-eminence of the writer in television comedy is what distinguishes the genre in this country. Sullivan didn't "create" a series and then leave it to others; he wrote every word.
Sullivan's ability to write about the world he knew was a rare gift, but sluggish to manifest itself. He grew up in Balham, south-west London, failed his 11-plus examination and left Telfer Scott secondary school aged 15 with no qualifications, except a love of Charles Dickens, whose books "came alive" for him thanks to an English teacher who read them out in class and encouraged his pupils to join in with the characters' voices.
He worked as a messenger at Reuters, then for a year at an advertising agency, Collett, Dickenson and Pearce (which employed the future film-makers David Puttnam and Alan Parker), before joining a second-hand car trader as a cleaner, then salesman. He played amateur football for Southside Athletic and joined Watney's Brewery, where an old schoolfriend showed him a newspaper article about the TV scriptwriter Speight earning £1,000 for each episode of Till Death Us Do Part; Sullivan was earning £1,000 a year. He bought a second-hand typewriter and started work on an unproduced sitcom called Gentlemen, about an old soldier running a gents' lavatory. Sullivan bought self-help books and studied English and maths but in 1972 was still working as a plumber. He met and married Sharon, a secretary, in 1974 and decided to work at the BBC as a scene-shifter in order to make some contacts for his writing. Encouraged by the comedian Ronnie Barker, he started writing comedy sketches for The Two Ronnies and Dave Allen.
He approached the veteran producer Dennis Main Wilson in the BBC club with an idea about a suburban revolutionary. He took two weeks' leave to write the pilot episode of Citizen Smith at his in-laws' home in Crystal Palace, and Wilson included it in the Comedy Special series, the successor to Comedy Playhouse, which had spawned many sitcom classics. The first of four series of Citizen Smith aired in 1977, with an absurdly funny Robert Lindsay playing Wolfie Smith, a poor man's Che Guevara in a black beret, and leader of the Tooting Popular Front, a small band of inept political terrorists (battle cry, "Power to the People"), running up bar bills and attracting only scorn and indifference.
While still writing Only Fools and Horses, Sullivan wrote other popular sitcoms, notably Just Good Friends (1983-86), a comedy romance between Paul Nicholas's working-class bookie, Vince, and Jan Francis's prissier, more middle-class girlfriend, Penny; and Dear John (1986-87) in which a schoolteacher played by the outstanding Ralph Bates muddled through in a west London bedsitter after his wife ran off with his former best friend. The Dear John format was sold to America, where it was remade and (with Judd Hirsch in the lead) then sold back to the BBC, with Sullivan writing some of these episodes himself. Roger Roger (1998-2003) was set in a mini-cab firm and deployed a new set of dubious, fast-talking characters, and Heartburn Hotel (1998-2000), written with Steve Glover, strayed into darker territory, with Tim Healy playing an embittered Falklands war veteran who takes over the Olympic hotel in Smethwick, named in the misguided belief that Birmingham would host the 1992 Olympic Games.
None of these later series repeated the runaway success of Only Fools and Horses, and Sullivan even fell out with the BBC when he turned to Dickens; his Micawber (2001), with Jason in the title role, was produced by ITV. Sullivan wrote only the first series of The Green Green Grass (2005-09), in which Boycie and his wife Marlene, played by Challis and Sue Holderness, exchange the back streets of Peckham for the open fields of Shropshire, where they do not take all that successfully to life down on the farm. The third and final episode of another Only Fools spinoff, Rock & Chips, a "prequel" set in the 1960s, is due to be broadcast this Thursday.
There were rumours that Sullivan might be writing one last episode of Only Fools, with all the characters rolling up to collect their old age pensions. Lloyd-Pack says that Sullivan always left the writing of each episode to the very last minute; there was rarely a finished script when shooting began. But he had a seemingly bottomless fund of stories to draw on, and the edginess in the rehearsal room undoubtedly fed into the general liveliness of the acting and dialogue.
Sullivan himself was a reserved and unassuming man, who loved working with actors, and spent endless hours in the editing room. He never moved in showbusiness circles, preferring to be at home with the family in Reigate, Surrey, where he collected good books and fine wines, and at his holiday apartment in Majorca. He was appointed OBE in 2005 and is survived by Sharon and their three children, Dan, James and Amy, and two grandchildren.
John Richard Thomas Sullivan, screenwriter, born 23 December 1946; died 23 April 2011
Kenneth MacDonald
20 November 1950 - 05 August 2001
Kenneth MacDonald died of a heart attack whilst on a family holiday in Hawaii on August 5 2001 aged just 50.
The Telegraph, August 2001
Kenneth MacDonald, the actor, who has died aged 50, was best known for his role as Mike Fisher, the good-natured and long-suffering landlord of the Nag's Head in the BBC television comedy series, Only Fools and Horses. When it was first broadcast in 1981, Only Fools and Horses, written by John Sullivan, immediately struck a chord with audiences, and although MacDonald was already a successful television actor, the part of Mike established him in what is now viewed as a classic. The Nag's Head, Peckham, was the regular watering hole for Derek ("Del Boy") and Rodney ("Rodders"), the roguish Trotter brothers who were permanently involved in "scams" - usually instigated by Del. Their money-making schemes would often be dreamt up in the pub, where Del liked to think he had a regular "tab" - "put it on my slate, Mike" - which he never paid. Mike would obligingly serve Del his ludicrous cocktails - often featuring creme de menthe, pina colada or Tizer - and offer the punters his disgusting food. "It's like Mike's pub grub," Del would say, "tough." Mike was also a regular victim of Del Boy's dodgy deals. The hapless Mike bought a blowtorch, after Del told him that it was a top-of-the-range hair-drier.
Kenneth MacDonald was born in Manchester on Nov 20, 1950. His early television performances included roles in Dad's Army (1968) and Upstairs, Downstairs (1971). In 1974 he landed the part of Gunner "Nobby" Clark in It Ain't Half Hot Mum, the highly successful comedy series based around the adventures of an Army theatrical troupe touring India during the war. MacDonald's character was one of the ineffectual privates under the charge of Battery Sergeant Major Williams (Windsor Davies) who would regularly refer to his men as "a bunch of pooftahs". Throughout the 1980s MacDonald continued to appear regularly on the small screen. In Tenko (1981), Brookside (in which he played George Webb) and Silas Marner: The Weaver of Raveloe (1985), he proved his versatility and skill beyond comedy roles. In 1994 he appeared alongside Jimmy Nail in Crocodile Shoes and followed this up with appearances in Touching Evil (1997), A Rather English Marriage (1998), David Copperfield (1999) and The Mrs Bradley Mysteries (1999). His most recent television appearances included The Sins, broadcast last year. He also had a successful stage career and appeared in the National Theatre's production of Guys and Dolls and My Night With Reg in the West End.
A humorous man with a natural talent for comedy, MacDonald was well-liked by his fellow actors, both for his professionalism and his warmth. He remained modest about his achievements. "I'm a very, very lucky man," he said recently. "I've been blessed with the good fortune to have been in two great sitcoms." The on-screen cameraderie amongst the cast of Only Fools and Horses was echoed by an off-screen loyalty and friendship. In February of this year, Kenneth MacDonald and fellow cast members attended the opening ceremony of The Nag's Head, in Peckham - based on the pub from the television series - and he immediately got behind the bar to serve the drinks. He is survived by his wife Sheila and their son and daughter.
Buster Merryfield
27 November 1920 - 23 June 1999
Buster Merryfield died at Poole General Hospital of a brain tumour on June 23 1999 aged 78.
The Telegraph, June 1999
Buster Merryfield, who has died aged 78, was known to millions of television viewers as Uncle Albert in the long-running BBC comedy Only Fools and Horses. Uncle Albert's catchphrase was "During the war", which invariably preceded an interminable reminiscence of his days in the Navy - to the fury of Del Boy and Rodney, younger members of the Trotter dynasty, played respectively by David Jason and Nicholas Lyndhurst. Del Boy and Rodney's long-lost seafaring uncle was first seen in an episode in February 1985.
Having only become a professional actor at the age of 57, Merryfield at first fretted about joining what was already a hugely successful series; he described waking in the middle of the night in a cold sweat convinced that his performance would ruin the show. But his fears proved unfounded. Sporting a wiry, snow-white beard, duffel coat and nautical cap, Uncle Albert became an intrinsic part of the programme's appeal - "a skiver", in Merryfield's words, "but a lovable skiver"; and when the last episode of Only Fools and Horses was transmitted at Christmas 1996, it drew more than 24 million viewers.
Buster Merryfield was born in Battersea, south London, on November 27 1920. Known as Buster from the fact that he weighed 9 lb at birth, he always kept his real Christian name a closely-guarded secret. He was educated at Sir Walter St John's School, Battersea (known as "Sinjuns"), where he failed to matriculate due to his overriding interest in sport. In 1938, at the age of 17, he took a job as a trainee at the Westminster Bank; the next year, with the outbreak of the Second World War, he joined the Army.
Having been a schoolboy boxing champion, Merryfield became a boxing champion in the Army, and also served as a physical training and jungle warfare instructor. He retained a passion for physical fitness throughout his life, always avoiding cigarettes and alcohol, and exercising daily even into his later years. After the war, and having married, he settled back into a banking career, rose to the position of bank manager, and remained with NatWest for the best part of four decades. Merryfield had always nursed dreams of the stage, but financial considerations prevailed. "I was married with a young daughter on the way," he recalled of his return to banking after the war. "I would have been stupid to go into acting."
Merryfield kept up his performances in amateur dramatic productions, and finally, at 57, took early retirement to concentrate on acting. He soon landed a few roles with a repertory company, making his professional debut at Worthing. He went on to perform regularly at the Connaught Theatre, London, in such productions as Emma Bovary, The Royal Hunt of the Sun, The Taming of the Shrew and The Dresser. Although best known on television as Uncle Albert, Merryfield made frequent appearances in such BBC series as Hannah, Strangers and Brothers and The Citadel. He played Sir Miles Honeyman in Shroud for a Nightingale and Sir Joshua Stakes in Lovesong, both for Anglia Television. He also often played in pantomime. After the final episode of Only Fools and Horses was completed, Merryfield busied himself with appearances for charity. Always kind and good-humoured, he was delighted at being able to use his late-found success to benefit others. At the British Comedy Awards in December 1997, Merryfield accepted an award for the best comedy moment on behalf of Only Fools and Horses. Buster Merryfield is survived by his wife Iris, whom he married in 1942 after a week-long romance, and by their daughter.
Lennard Pearce
September 1915 - 15 December 1984
Lennard Pearce died at the Whittington Hospital London of a Heart Attack on December 15 1984 aged 69.
From The Only Fools and Horses Story by Steve Clarke
For an actor who had spent more than forty years in showbusiness, fame came late in life to Lennard Pearce. Yet becoming a household name as the Trotter boys' elderly grandad gave him a great deal of satisfaction and, according to friends, a new lease of life when he had previously been thinking about retirement.
Born in London in 1915, Lennard studied drama at the Royal Academy of Dramatic Art and was in the armed forces entertainment unit ENSA during the Second World War. Afterwards he spent most of his professional life in the theatre; in the early sixties he understudied Doolittle in the original West End production of My Fair Lady and played the part for more than 150 performances.
He joined the National Theatre under Sir Laurence Olivier in 1965 and appeared in a string of plays there, including The Royal Hunt of the Sun, Much Ado About Nothing, Rosencrantz and Guildenstern are Dead and Tartuffe. He was also a member of the Royal Shakespeare Company and played at many repertory theatres.
Leading television roles eluded him though, until he landed the part of Grandad in Only Fools and Horses, but he did appear in small roles in Cathy Come Home, Coronation Street, Crown Court and Minder. Oscar winning actor Sir Anthony Hopkins appeared on stage with Lennard and has fond memories of him. 'He was a very nice man,' he recalls. 'A really gentle guy. I knew him at the National Theatre where he was playing a few small parts and I hadn't seen him for years until I saw him in Only Fools and Horses and it was nice to see him playing a major part in such a great series.'
After being cast as Grandad, Lennard relished his work on the programme. 'I have never been in a hit series before and it's nice being recognised,' he told The News of the World during transmission of the third series. 'The first two were so well constructed I didn't think John Sullivan could keep it up but I was wrong. The standards are just as high and I aim to be around if there is a fourth series. It's not only a wonderful part but the script is tremendous. There's so much for us all to get our teeth into.' Sadly Lennard never lived to fulfil his wish and appear in a fourth series.
'He's sorely missed to this day,' says Nicholas Lyndhurst. 'He knew exactly how to say his lines perfectly. David and I would often have lots of lines and he'd be sitting there watching telly and then he'd just have one line and he'd bring the house down. We used to say: "You sod. We're giving you a twenty-minute lead in to what you're going to say," and he just used to sit there with a fag in his mouth and say, "I know - but I'm old. I'm allowed." He was great. He loved people calling him Grandad and even signed my twenty-first birthday card Grandad.'
---
Other actors who have appeared in Only Fools and Horses who have sadly passed away.
David Jackson - Brendan, Who's A Pretty Boy - 25 July 2005 Aged 71
Geoffrey Toone - Lord Ridgemere, A Touch of Glass - 1 June 2005 Aged 94
Peter Woodthorpe - Reg Trotter, Thicker Than Water - 13 August 2004 Aged 72 - Read Obituary
Constance Chapman - Elsie Partridge, Sickness and Wealth - 10 August 2003 Aged 91
Tony Anholt - Abdul, To Hull and Back - 26 July 2002 Aged 61
Joan Sims - Aunt Renee, The Frogs Legacy - 28 June 2001 Aged 71
Christopher Mitchell - Terry Hoskins - May the Force be with You - To Hull and Back - 22 February 2001 Aged 53
Walter Sparrow - Dirty Barry, Danger UXD - 31 May 2000 Aged 72
Derek Newark - Eric the Policeman, The Russians are Coming - 11 August 1998 Aged 65
Steve Alder - Eddie Chambers, The Jolly Boys' Outing - 7 March 1997 Aged 47
Eva Mottley - Corrine, Who's a Pretty Boy - 14 February 1985 Aged 31