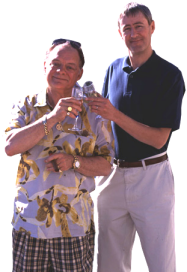 He had been in intensive care for six weeks at a hospital in Surrey, battling viral pneumonia.
He is survived by his wife Sharon and two sons, a daughter and two grandchildren.
Go to Miscellaneous - Obituaries from the above menu to read a full obituary.
---
Only Fools and Horses is Britain's most popular situation comedy of all time. Voted No.1 in a BBC poll to find the nations best comedy, Only Fools and Horses polled a total of 342,426 votes leaving its nearest rival Blackadder trailing behind with 282, 106.
Only Fools and Horses began in 1981 and was almost axed after just one series due to poor viewing figures. The show steadily grew in popularity and what was thought to be the final ever episode, Time On Our Hands shown at Christmas 1996 was watched by 24.3 million viewers making television history by becoming the most watched television show of all time.
Only Fools and Horses returned five years later with the first of another 'final' trilogy. If They Could See Us Now was broadcast on Christmas Day 2001. The following instalment in the trilogy Strangers On The Shore was shown on Christmas Day 2002 with the final episode Sleepless In Peckham screened on Christmas Day 2003.